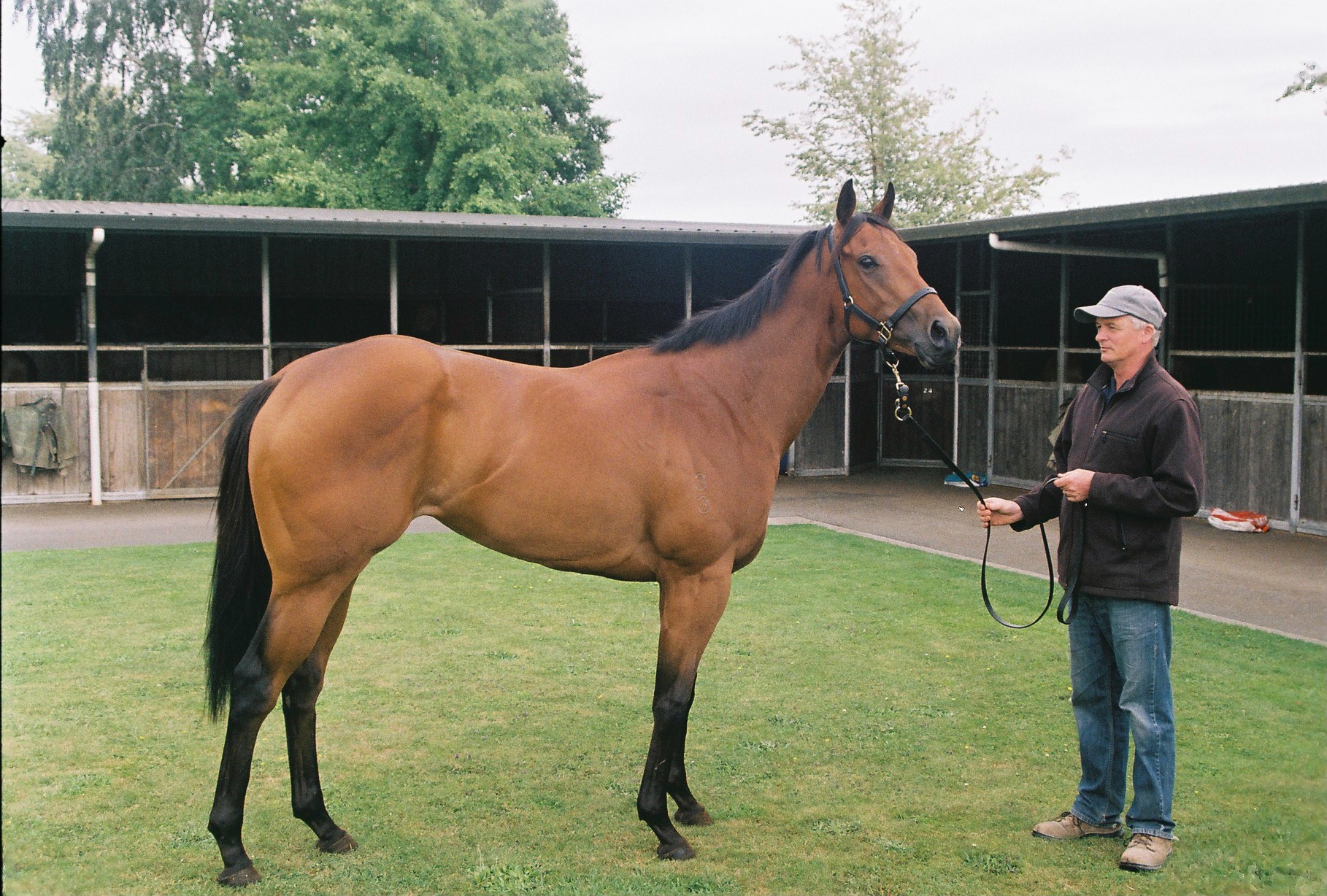 Tesia with her first trainer Lance Noble
Early every morning on the dark grey sands of a beach near Waiuku, a three-year old bay filly racehorse Tesia is cantered in training for her next race.
Ears pricked and known as a thinker, this filly by the Australian Guineas-winning stallion Pins is only a small horse but her 19 owners have patiently been waiting while she puts on condition and builds up strength for the next opportunity to prove herself, and perhaps offset their monthly bills.
Based in Auckland, Matamata, Rotorua and Wellington, the owners wait with anticipation for every email that their syndicate manager Leigh Noble sends them – whether the news be that Tesia is eating up well, has thrown a shoe and stood on a nail or, when a yearling, got involved in a kicking fight and was recovering from a kick to a hock.
Occasionally the owners watch the videos of Tesia's earlier six races and keep their hopes and enthusiasm alive as they remember her never-say-die attitude in her first three races as a two-year-old, when she ran first, fourth and fourth.
In her first race at Avondale in December 2015, despite beginning 'awkwardly' as the race record notes, Tesia astounded her owners and even seasoned commentator George Simon by squeezing through a narrow gap between two leading horses, urged carefully on by her jockey Cameron Lammas. She held on to her lead, despite a late challenge by another filly O'Rachael, who has now earned over $50,000 in stakes and is rated higher than Tesia.
In her second race at Ellerslie on Boxing Day 2015, Tesia was only just beaten to third place by Mongolian Falcon, a colt who has since gone on to earn $128,000 in nine races. In fact she ran the last 600 metres of the 1,100-metre race faster than the three who finished ahead of her, including the winner Gasoline who has since been sold to a Hong Kong buyer for an undisclosed sum after earning $43,000 in four races.
In her third race in January 2016, in another baking-hot day at Ellerslie, Tesia led the 1,200-metre field until the last 200 metres when she was overtaken by Sacred Elixir, who has since gone on to earn over $1 million in 13 races in New Zealand and Australia. Second to overtake her was The Soultaker, who has now earned $99,000 from seven races. And third was What Choux Want, the only filly to beat her that day, who has now earned $76,000.
Why has Tesia apparently slipped in form and to date only earned $7,525 in stakes, plus an $8,000 winning Pearl bonus?
Since those three races she has become a little bit of an enigma and a handful. Although friendly to visit in a paddock, and described as 'kind and honest' by her two successive trainers Lance Noble and Graham Richardson, she fought her young jockey Shaun McKay all the way down the back-straight at Hastings in the prestigious Hawke's Bay Breeders Gold Trail Stakes in September to finish last.
In November, back again under the experienced hands of Cameron Lammas, she finished a credible sixth behind mares that were a year or two more developed than her, but seemed a bit lack-lustre.
A decision was made to spell her as she was losing condition, perhaps not enjoying the strict routine of a racing stable and looked like she was going through another growth spurt. Like a teenager developing at a different pace to her peers, she needed to be cut some slack.
Off she went to a paddock on the fertile grasslands of Matamata to be well-fed and attended to by Jon and Karin Hogan. The result after four months was a much more muscled horse.
In pre-training at Waiuku since late February with Moira and Kieran Murdoch, she is now happy in her work and environment – galloping down the beach in the morning, devouring her feed, spending the rest of the day outside in a paddock and coming into a stable each night. When her fitness is re-established, training will begin in earnest for her next race.
With her race form now reading 8X06X, she won't be a favourite but that won't stop several of her owners travelling hundreds of kilometres to watch her gallop 1.2km in just over a minute.
As one of those owners, I can say that owning a share in Tesia has led to some highly enjoyable shared interests with others. These include an interest in her welfare and in the dreams of her winning another race. For me, it has also been an introduction to a new world – horseracing – where I'm continually learning. I've even taken up riding lessons.
With others, I believe we'll enjoy Tesia's best once she has matured as a four year-old and, even if she doesn't win another race, we'll enjoy whatever she achieves and ensure when her racing days are over that she has a good life in the next stage of her career.
To view a video of Tesia's first race, select 2 December 2015 in the race day calendar on this site, click on Avondale and then click on the Race 2 heading.